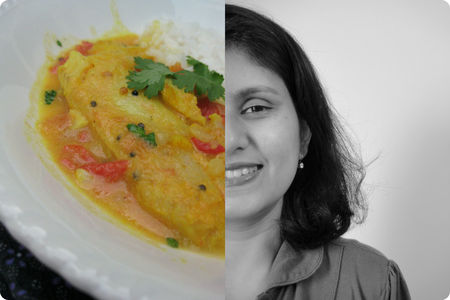 1. What is your nationality ? Indian
2. Where were you born ? Assam in India (Assam is a state in the North-eastern region of India)
3. What languages can you speak ? English, Hindi (one of the most widely spoken Indian language), Assamese (my mother-tongue)
4. How long have you been living in HK ? Seven years
5. Where did you live before ? Taiwan
6. What do you particularly like in HK ? I like HK because I feel it is a very safe city. It's cosmopolitan and we see people from all over the world. Its so vibrant and I feel the city never sleeps.
7. What did you find the hardest to get used to ? The language (in the sense, explaining myself to people and at the same time understanding them).
Winters in HK are terribly cold for me.
8. What movie/book/object/dish instantly evocates HK according to you ? The harbour, the massive skyline and the shiny red taxis.
9. Once (if !) you'll be far far away, in a couple of years, what will remain of this experience ? I will always remember Hong Kong as one of the most efficient countries. Everything runs so smoothly here.
10. Why did you share this particular recipe ? I've seen non-Indians love this dish as it is not spicy yet rich in flavour. I can bet you won't get it in any Indian Restaurant :)
Masor Tenga (sour curry of fish)
6-8 pieces of fish (either fillet or with bones. Fresh water fish like "grass carp" are the best)
1 large potato
2 large tomatoes
2 teaspoons turmeric powder
2 tablespoons mustard paste (I used Coleman's mustard powder to make the paste)
1 teaspoons mustard seeds
2-3 tablespoons lemon juice (freshly sqeezed)
half cup coriander leaves
salt to taste
About half cup mustard oil
1. Marinate the fish pieces with 1 n half teaspoon turmeric powder and 1 teaspoon salt for 2 hours.
2. Shallow fry the fish pieces in mustard oil until reddish brown and keep aside.
3. Meanwhile boil the potato and once boiled, mash it thoroughly and keep aside.
4. Chop the tomatoes into small pieces and also chop the coriander into small pieces.
5. Prepare the mustard paste and keep aside.
6. Heat mustard oil in a hollow pan or a wok. Crackle the mustard seeds. Then add the chopped tomatoes and half teaspoon salt and cook until the tomatoes are pulpy and very soft.
7. Add the mashed potato and cook for another 5 min.
8. Add 2 cups of water, mustard paste and lemon juice. Add the fried fish pieces and cover and let the water boil. Once boiled simmer it for 10 - 15 min until the gravy looks little thick.
9. Turn the heat off and sprinkle finely-cut coriander leaves on top.
10. Taste it a little to see if you need to add more salt ;) I always do that as I can never say how much is the right amount of salt :D